I stumbled upon an interesting post at Dean Hunt's blog about PageRank. Yes, I'm way too late to be one of the readers since it is posted more than a year ago.
He is in fact a famous blogger but I'm not aware of his interesting blog until early this week, thanks to my inbound link analyses on one of my competitors. PageRank has always been a big story in most of webmasters forums. It was exhilarating watching them talking about updates and the Do's and Don't's to increase the PageRank on the next 'Google dance'.
I was once a PageRank enthusiast, I was eagerly waiting for the updates and hoping that all of my sites will get some juicy PageRank. Not to say that I have totally expelled PageRank on my daily online routine, but I'm a bit "slower" now on PageRank, and concentrate more to connect with bloggers like Mostly Lisa
. I do have my personal opinion about this issue (whether PageRank is important or not). I think it depends on situation and it can be classify as important and it can be not important.
What is PageRank?
Google describes PageRank as:
PageRank relies on the uniquely democratic nature of the web by using its vast link structure as an indicator of an individual page's value. In essence, Google interprets a link from page A to page B as a vote, by page A, for page B. But, Google looks at more than the sheer volume of votes, or links a page receives; it also analyzes the page that casts the vote. Votes cast by pages that are themselves "important" weigh more heavily and help to make other pages "important".
Google assign a number from 0-10 to websites according to their "important" level. The higher your PageRank number, the more important your site in the eyes (yes, they have huge eyes!) of Google. Keep in mind that PageRank is only for Google, other SE do not apply PageRank.
It was developed by Larry Page (that's why they called it PageRank) at the Stanford University. You can read more about the history of PageRank at the wikipedia. When it first introduced, Larry's creation produced enormous buzz in Google-addicted-society.
PageRank and SERP
SERP is an abbreviation of search engine results page,
A search engine results page, or SERP, is the listing of web pages returned by a search engine in response to a keyword query. The results normally include a list of web pages with titles, a link to the page, and a short description showing where the keywords have matched content within the page. A SERP may refer to a single page of links returned, or to the set of all links returned for a search query.
So, does PageRank affects our ranking position in the SERP? Will a higher PageRanked website rank higher in Google compared to a lower one? I compared this blog with another blog for the keyword make money online to see whether PageRank is directly proportional to the ranking in the SERP or vice versa. At that comparison period, this blog (with PageRank3) was on the 6th page of Google SERP and the other blog (www.gurucreation.com – Pagerank 2) was on the 5th page of Google SERP.
It is way ahead of me even though it has a lower PageRank compared to mine. To get this more clear, I attach 2 images for you to see, you have to click the image for a larger view.

gurucreation.com on SERP for "make money online" keyword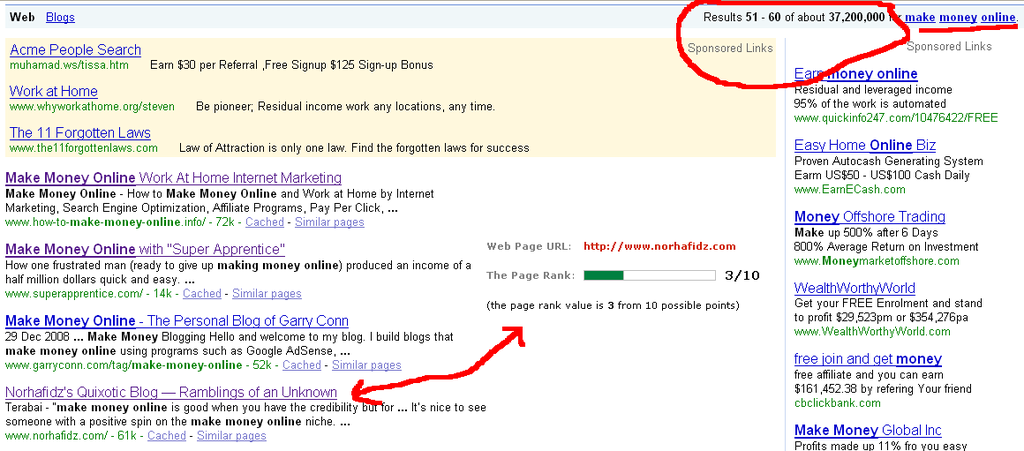 norhafidz.com on SERP for "make money online" keyword
Through this comparison, I believe that the position on SERP does not rely on PageRank entirely but the on page and off page optimization of that particular website.
Why PageRank?
Theories in search engine optimization said that high PageRank inbound links will lead to a higher ranking in SERP (only on Google), and this has always been proven to be true. That is why PageRank is being worshiped by a lot webmasters.
It can be manipulate to generate money and huge traffic. I remember when John Chow and Ades from adesblog.com gave away their PR7 link-juice to bloggers who review their blog with certain keywords acted as anchor text. They didn't make a lot of money, but they sure made a lot of new readers and skyrocketed their traffic.
When PageRank is Important and When it is Not?
It is important when you are running a blog/site that has a purpose of generating money. Advertisers (that are targeting for Google SERP) are always looking for a high PageRank blog/sites for links. A lot of advertisers are targeting to be top-ranking on Google since it received much more traffic in many countries than any other search engines.
In addition to that, most paid reviews ad network, such as Sponsoredreviews.com and other look-alike-ad-networks still weigh PageRank as one of important criterion for publishers. The higher your PageRank, the higher your chance of getting dollars from the advertisers.
And PageRank is garbage and not worthy when you are running a personal blog/site that has no purpose of making money.
Would you die for PageRank?
Stay alert with new updates from me by following me on twitter! Please consider subscribing to my full feed RSS. You can also subscribe by Email and have new posts sent directly to your inbox.
Add To the Conversation by Leaving a Comment