At the end of September 2008, I was trying to test my search engine optimization knowledge by competing for a keyword. It is not about a total SEO strategy, but more of an attempt to be on top of SE ranking the wise way, which involved keyword analysis. After several analyses, I choose "make money on internet" as the phrase to compete with. The reason behind this selection is because I am trying to be another John Chow IV
Keyword Analysis
It is quite high in terms of search volume (per month) and from my observation, it is not highly competitive. Here's what Google said about the phrase: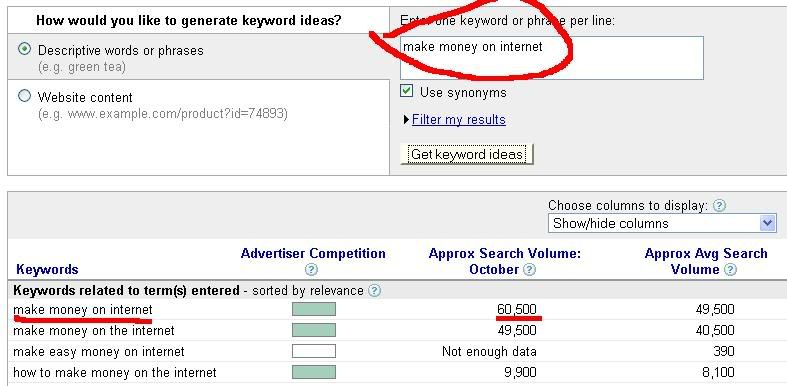 Sorry for the visual defect, I am forced to reduce the size of the image to fit it with thesis. You have to click it for a larger view. According to the father of modern and probably century-a-round search engine(I hope this incantation works), The phrase "make money on internet" received approximately 60,000+ search volume in October.
Now let's math do the job,
60,000 search volume + not highly competitive keyword  = easy job x good keyphrase.
Well, yea it's a bit confusing, excuse my bad math. The point here is "make money on internet" is a suitable keyword to compete with since it is not inclusiveness of high competitive keyword. How can I be so sure about that? I observed three things:
How many websites are competing (I didn't assume all listed websites are competing for the keyword, some may not even competing).
The links structure of top ranked sites (how well linked they are).
How many PPC advertisers.
Some of you or some of SEO company might have different metrics in determining the competitiveness of keywords, but these were the things that I observe when I do search engine optimization. Some even develop a mathematical formula to determine the keyword competitiveness.
There is no proper and exact way of doing it. "It Works!" can only be said when you get the result. Here's my result, and this image is taken earlier this week, the ranking might have change a bit (hopefully a bit) by now.

Again, thesis force me to compressed the image. Click the image and you'll see it in a larger version. That smile is genuine.
No Hidden Secrets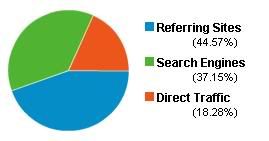 No one knows exactly how Google's algorithm works (some say Sergey and Larry produced them with their math lecturers
I don't know about that). If you ask me about SEO, I would say: "SEO is a very simple concept with the need of huge efforts". Concentrate on both On page and Off page, these two factors must be in parallel with each other. Google has just release their complete guide of SEO to the world.
They called it "Google's SEO Starter Guide", and Google has done a very good job in explaining them. As far as I'm aware, most of the guides presented is concern about On page optimization. But don't worry much, you have to understand that off page optimization is only about getting links pointing to your blog (preferably your targeted keyword as the anchor text). Produce more of this slightly better than the first-position website and you will be better than them.
These are the things that I did in my analyses, I would love to hear your 'things'!
Stay alert with new updates from me by following me on twitter! Please consider subscribing to my full feed RSS. You can also subscribe by Email and have new posts sent directly to your inbox.
Add To the Conversation by Leaving a Comment